Within a day I got an email QSL for Radio Centrale Milano 1575 kHz. Thanks to a tip in Hugo's DX Hoekje I learned that they are testing on 1575 kHz.
You can already listen to Centrale Milano via an internet stream. The station intends to start broadcasting via mediumwave from Alessandria, Italy, as well. Despite a power of only 10 Watts and a distance of 840 kilometers the reception was pretty good August 28th, 23h UTC. During the tests the station transmits a pulse with increasing pitch. That results in a very interesting waterfall on the HDSDR as you can see in the picture below. But it is even nicer to view and listen to a little YouTube clip I made.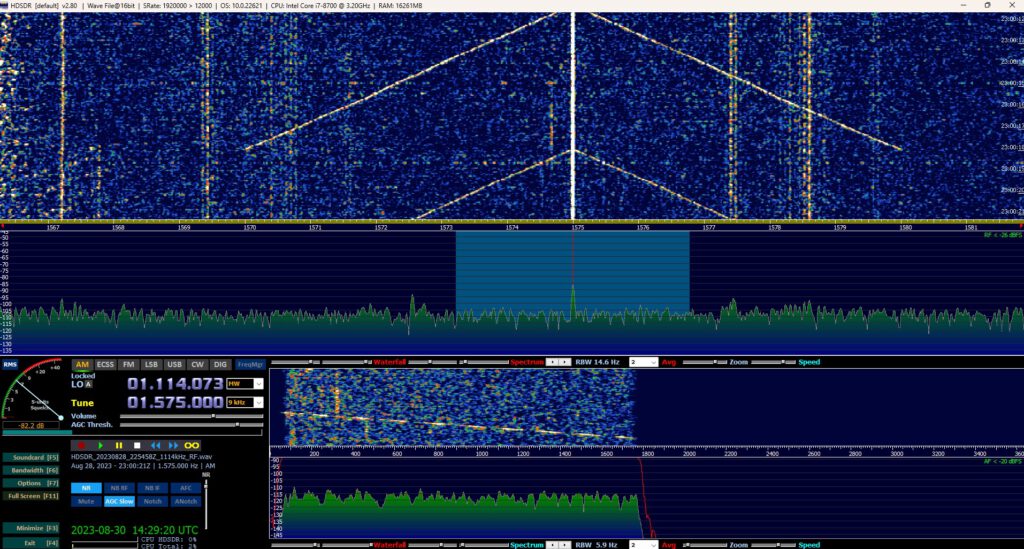 In the email reply on my reception report Enzo at Radio Centralo Milano wrote:
Yes, we are testing our site near to Alessandria where we are authorized to use the 1575khz formerly in charge of the Italian Rai and now assigned to us.
The test are performed with a 50mt folded dipole and 10w carrier. We are authorized to 1kw and it seem we will reach you again probably much better ! The regular programs currently available online will be soon activated replacing the test tones and increased (in quality and number of direct 'on air') starting from January next year.
I'm 60y/o, owner of the radio and very happy to meet person as you, with your passion for the radio. Congratulations for you ability to capture a so low signal coming from so far away !
You will receive soon our QSL, for the moment thanks again and stay tuned !