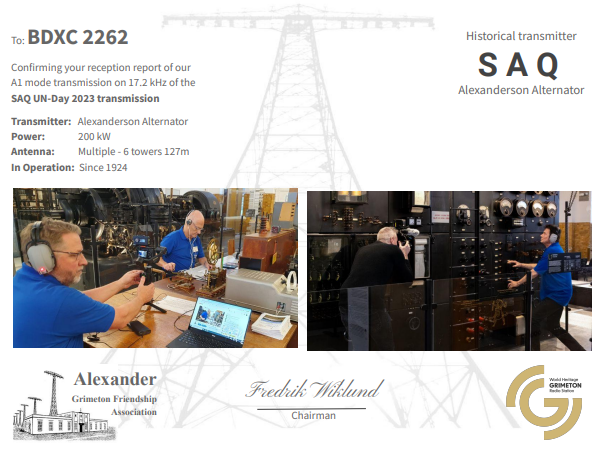 On Christmas Eve morning, Sunday December 24th 2023, SAQ Grimeton is scheduled to be on the air, to send out the traditional Christmas message to the whole world, using the 200kW Alexanderson alternator from 1924, on 17.2 kHz CW.

Program and transmission schedule:
08:00 CET (07:00 UTC: The transmitter hall at World Heritage Grimeton is opened for visitors.
Transmission & YouTube Live stream:
08:25 CET (07:25 UTC): Live stream on YouTube begins.
08:30 CET (07:30 UTC): Startup and tuning of the Alexanderson Alternator SAQ.
09:00 CET (08:00 UTC): Transmission of a message from SAQ.
Test transmissions
We are planning to carry our some test transmissions on Friday, December 22nd, approximately between 13:00 CET (12:00 UTC) and 16:00 CET (15:00 UTC). SAQ will be on the air shorter periods of time during this interval, when we will be carrying out some tests and measurements. Your comments are welcome to info@alexander.n.se.
More info on https://alexander.n.se/en/