UPDATE!: Today I received another email from the Centrale Milano Team. I received their testsignals – with only 10 Watts – a few weeks ago. I was promised a QSL Radio Centrale Milano 1575 kHz and here it is: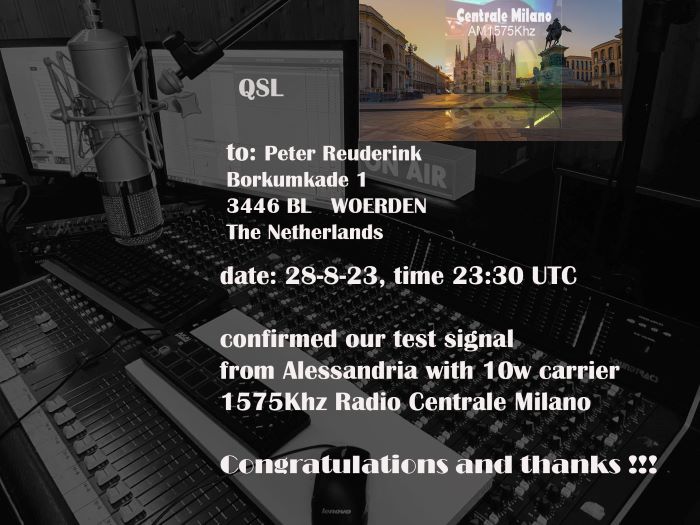 I'm really pleased with this QSL. It confirmed the low power and it shows the beautiful Cathedral in Milan which I had the opportunity to visit some 20 years ago.
Enzo from Centrale Milano wrote this in his email:
Here our QSL for your archive and some other picture of the studios and myself (Enzo) recently and during the seventies in American Radio Milano.
I was a former DJ in many Italian radio station and a speaker/voice actor for many years.
Now, my mission is to keep alive the Medium Waves in Italy and in Europe if possible….. with 10w and more (:).
We are authorized to use the historical Rai 1575Khz frequency up to 1kw so, it seem it should work very well.
Thank you very much again.
Stay Tuned !
Enzo
Radio Centrale Milano
www.centralemilano.com
On the pictures below you see Enzo today and Enzo in the past! Stay tuned for this new station as they prepare for regular broadcasts!