Listening to the radio can bring you very close to current affairs. For my report on a Radio Rossii program transmitted on 999 kHz I received this QSL from Pridnestrovsky Radiotelecentr (prtc@idknet.com). The Radiotelecentr also broadcasts programmes of Vesti FM (1431 kHz) and Trans World Radio (1548 kHz).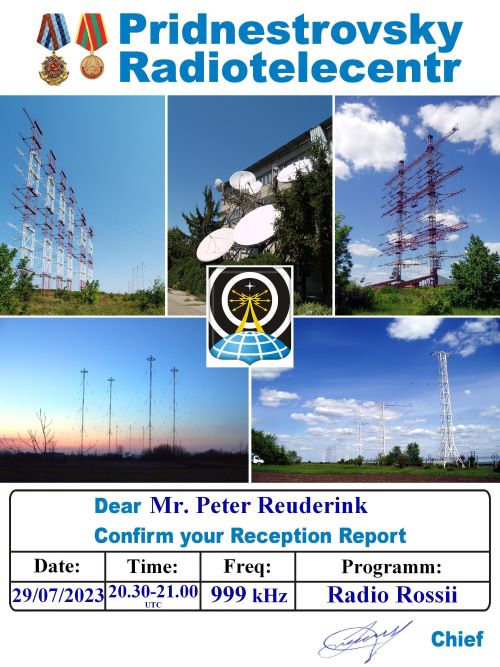 Pridnestrovsky Radiotelecentr is located near Grigoriopol in Transnistria, a small strip of land between the river Dniestr and the border with Ukraine. Transnistria literally means "across the Dniestr. When the Soviet Union was dissolved in 1990 this part of the former Moldovan Soviet Republic broke away. They hoped to stay within the Soviet Union. In 1992 a military conflict ended with a ceasefire and the creation of a demilitarized zone. The region which calls itself the Pridnestrovian Moldavian Republic has since been autonomous but is not recognized by any UN member state. It is still seen as part of Moldova.
In 2022, while the Russian invasion in Ukraine took place, a wave of attacks struck Transnistria. Two blasts on April 26th destroyed the two most powerful antennas of the radio station. There are different views on who was behind the attacks. From the email I received it is clear what the station administration thinks of it.