A QSL for Jake-FM heard on Channel 292, broadcasting from Ingolstadt, Germany. I sent my report to qsl@jake-fm.de . Jake-FM is basically a hobby internet station. As the operator Michael Fischer writes on the Jake-FM website: Why another internet station? Because the operator enjoys it!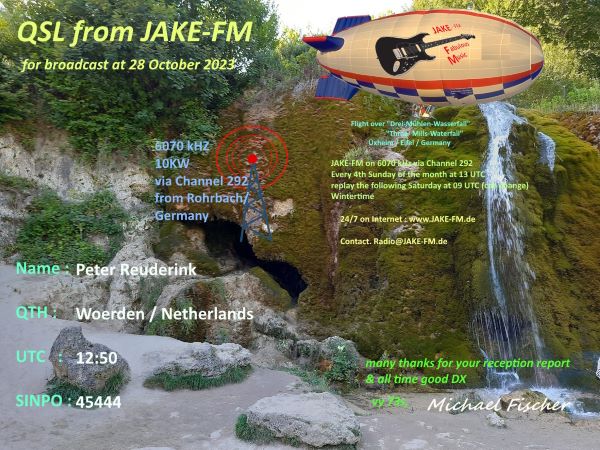 The station got his name from a local cult-music bar "Black Jake". FM was added because it sounds better than Jake-digital or Jake-internet, and stands for Fabelhafte Musik (Fabulous Music).
From their website: JAKE-FM's basic program consists of a non-stop music mix that emphasizes Classic Rock, but also includes many other genres, such as blues, soul, pop, oldies. Under no circumstances will you hear hits, folk music, hip-hop, techno or the latest chart noise here.
JAKE-FM can be heard on the "real" radio every 4th Sunday of the month via Channel 292. From 2 p.m. local time on the frequency 6070 kHz with the "JAKE-FM – Shortwave Show". It's repeated the following Saturday at 10 a.m. local time (may be postponed). Check Jake-FM website or Channel 292 for the latest info.