Yesss… a new radio country confirmed: Bosnia Herzegovina. I got an email from Mr. Adnan Becic to QSL NDB TU-455 from Tuzla. If I've counted correctly, this is my 189th EDXC radio country. In the 80-ies I was able to receive and QSL Radio Sarajevo. But that was before the Balkan war, and Bosnia Herzegovina was still part of Yugoslavia.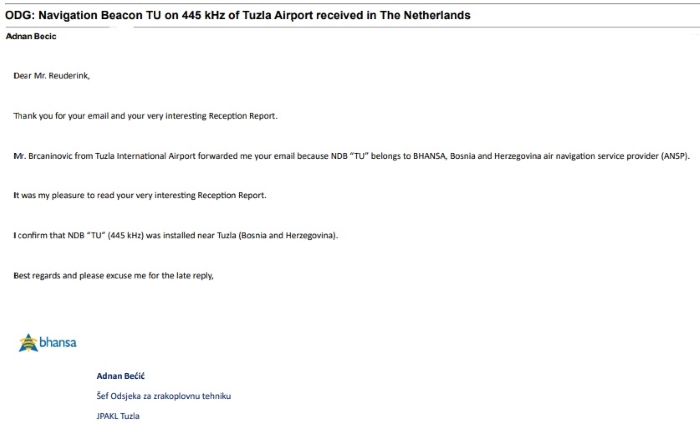 BHANSA is the organization responsible for aeronautical navigation services in Bosnia Herzegovina. I tried sending a report to BHANSA directly about my reception of the Banja Luka Beacon BLK-340. But I only had their corporate email address so it probably never reached the right department. I never got an answer.
So this time I decided to write to Tuzla Airport instead and sent an email to Mr. Brcaninovic, technical manager at Tuzla Airport. He forwarded my message to the BHANSA team (translated from Bosnian language):
Guys.. greetings!
You see if you want to answer this lover of radio signals. I have no idea how (probably the contacts on our website for the technique) but it's not my responsibility, so I'm forwarding it to you for your attention and possible action. As nice as it is to know that you can hear from Holland 😃
And as you could see, it worked! Thank you Mr. Brcaninovic and Mr. Becic for allowing me to add another country to my list!

Note: the email address was not available in public domain and therefore not published here. You can contact me for further details by submitting a comment.