I received this e- QSL from Atlantic 2000 International for my reception of their program transmitted via Channel 292, Rohrbach-Waal, Germany. What I like about their program is the music selection which also features French popular music. When I was young we heard much more French chansons on the radio…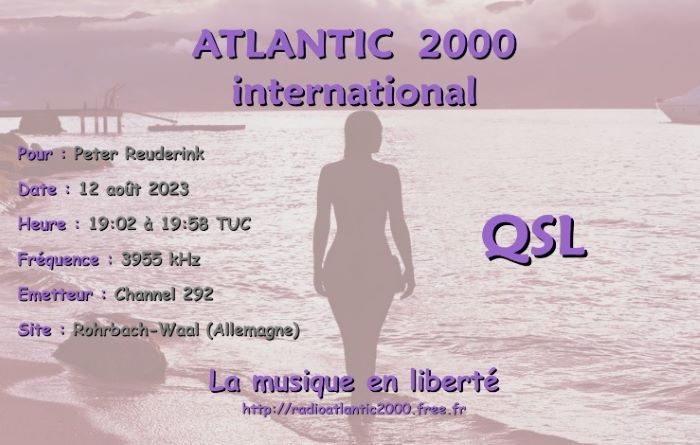 With the e-QSL I also received some information in French about this station which has a 45 year old history. About as long as my own radio/DX-ing career! I took the liberty to translate some of it here:
After broadcasting on FM from 1978 to 1982, Atlantic 2000 International was heard for the first time on shortwave on June 6, 1982, on 7325 kHz. The following shows aired monthly until July 1988 with 25 and 30 W transmitters.
After more than 19 years of absence, Atlantic 2000 returned to the airwaves on October 28, 2007, on 6280 and 6210 kHz.

From 2008 to 2010, Atlantic 2000 broadcast its programs from Italy, on the transmitters of Mystery Radio, then Radio Amica.
From December 2010, our programs were broadcast from Germany by
different relay stations:
on 3985, 6005 and 7310 kHz via Shortwave Service at Kall-Krekel (12/2010 to 02/2017)
on 9480, then 9485 and 7265 kHz via MV Baltic Radio in Göhren (10/2011 to 01/2016)
on 3955, 6070, 7440 and 9670 kHz via Channel 292 at Rohrbach Waal.
In July 2016 and January 2018, Atlantic 2000 was relayed by the WINB transmitter, located at Red Lion in the USA, on the frequency of 9265 kHz, with a power of 50 kW.
In 2021, several shows were aired by Radio Miami International (WRMI)
from Okeechobee in Florida (USA), with a power of 100 kW.
On their website you can learn that the name Atlantic 2000 is much older than 45 years. That name belonged to a station broadcasting from San Sebastian to the French Atlantic Coast, with roots going back to Radio Andorra (which will be a topic of my next post). Following the death of dictator Franco this station was closed in 1975 by the Spanish government. The FM broadcasts from the French Atlantic coast starting in 1978 were a tribute to this station.
Having sent my report I should be informed about future broadcasts, which I will post accordingly on this blog. Stay tuned!